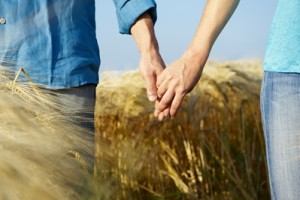 Looking For Love?
As of today, 2,754 unsolicited emails have arrived in my inbox as a result of a course I took about a year ago on the ins-and-outs of the publishing world. The course was hosted by a publishing success who'd made her name writing to 'women over 40 looking for love.' I subscribed to her list, (and the lists of the other names on her show), mainly to see how they marketed stuff to me. I have to say I became an entirely new person as a result. I took on the role of an over-40 female marketing target. And boy-howdy, I surely do have a lot of problems.
As an exercise in relating, I began to construct myself as the persona my new-found professional friends were speaking to, creating a female alter-ego who I later dubbed 'Online Joy.' Whenever a headline came my way, I simply said "Yes! That's me!" to the proposition, and used it to construct my new psyche.
Here's a sampling of what I found out about myself, and what I need:
I need to learn how to use meditation as a soulmate springboard.
I accidentally reject my soulmate in the dating process.
I can't tell if my relationship is on the right track.
I make 5 massive mistakes around men.
I make 3 massive mistakes around men.
I can't be my best self around men. I know it's not my fault, but I don't know what to do about it.
I'm not doing what men really want.
I don't know when to hold 'em and when to fold 'em.
I don't know the definition of my own happiness.
I'm amazing but it's hurting my chances.
I don't know the keys to legendary love.
I don't know the one thing I can do to make men want me.
I'm not in control of my love life.
I don't know how to make a man feel happy.
I don't know how to make myself feel happy.
I'm not comfortable in my own skin.
I don't know when to commit.
I don't know who my real friends are.
I need daily self love, and I'm not getting it.
I need to learn step-by- step love manifestation.
My life will be better when I finally learn the flirting secrets.
I can fast-track my way to my soulmate through online dating.
I must free up from past dynamics to create my future love.
I'm not succulent enough.
I don't know the fastest and cheapest way to lasting love.
I take dating too personally.
I'm not operating from a place of massive confidence.
I should know the one thing that will ensure a healthy relationship.
I don't know what Charlie Brown and I have in common.
I can't keep momentum alive with the new guy.
I don't know how to read marketing emails to get the most out of them (no kidding).
I fall apart around the hottest guys.
I Intimidate men.
I don't know how to attract my soulmate.
I'm unprepared for love and abundance.
My sincere apologies to anyone who's reading this, woman or man, who's being stalked by loneliness within the four walls of their own home. I'm not going to tell you that "pain is inevitable, but suffering is optional."  And I'm sure that some of the tips and techniques offered to Online Joy by her new-found professional friends would help her close a few sales. But to the extent that these marketing statements—and now millions upon countless millions of similar ones that flood our attention—reflect the concerns that are running around our heads, it's easy to see why Gautama Buddha issued what amounted to a general order for a total strike; a complete cessation of the ego—the quieting to absolute zero of the "I" that is suffering so much.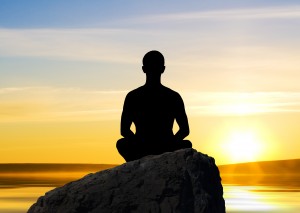 At this point I'm going to make a public statement that I hope I don't live to regret. That statement is this: I don't believe that the solutions offered by my marketing friends, or by traditions that see the ego as the enemy, represent the way forward that will ultimately be embraced by a suffering humanity. Along with an increasing number of other people, I'm on the scent-trail of a different approach, an approach that uses and expands what many are starting to call The Field. But before I tell you about it, I have to pause for one more story.
I actually met Online Joy in person.
I'd just been up to the top of South Boulder Peak, and was coming down toward the parking lot. There's a wider all-access trail towards the bottom, and a woman about my age was taking an early-evening stroll. We just happened to merge into the wider trail at the exact same instant. Within a few seconds, it was clear to me that what I considered a mere happenstance was for her a 'calling in the one' moment. It was of course flattering for me to represent some physical approximation of a man someone had placed on a vision board.
However, within the first couple of minutes she revealed that her psychic had told her that this exact thing was going to happen; that she's been practicing a system; that she had been releasing her past and affirming….
"I know, I know," I thought. "I've been reading your email."
I have to say that I ended up fleeing the scene.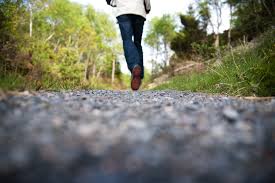 I was not fleeing her exactly, (who seemed quite nice) but rather fleeing from the weight of all of the expectancy, the technique-laden approach to an interaction, and the fact that she was so full of her own process that she couldn't see me at all. After being up on the mountain looking at the snow-capped peaks of the Divide, I just wasn't in the mood to be acquired.
What stood between us there, in all its glory, was the dreadful "I", the one who says "I don't know what I should say, I don't know what the next step is, I'm unprepared, so I have to work and work and work to get what I want."  This "I" place is indeed a space full of trouble and mashing mental gears, where any possibility of flow is blocked, where we miss the moment because we are thinking about the 3rd step in our 5 step process, or about what we need, want and deserve. No matter how filled up it might become with expert advice, the "I" will never know what to do because It, Itself, (and Its agenda), is the problem!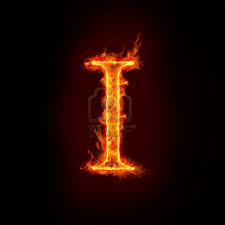 Yet, it's my belief, indeed my conviction, that the "I" is not some evolutionary error. The solution is not to go back and back into some alleged primordial oneness that we never would have left in the first place if it was all that great.
An Invitation to the Field, and the Fieldwork Approach.
I invite you to consider a different approach, one that moves the the two previous ways—total "I"-ness and total non-"I"-ness— toward a synthesis that resolves the polaric tension between them, and ends the war. I'm calling this approach Field Consciousness. It's an approach where the "I" is there full on, but in a different role. In this approach, the "I" takes on the role of a sense organ, like the sense of smell or taste. I know that this may sound strange. But the solution in my view is to turn the "I" completely outward, and use it to understand, to know, to filter, to choose, and to inform, just as we now use our five pre-given senses.
What if the "I" became recognized and used as our sixth sense, added onto the five that have come pre-loaded from our animal heritage. We were once completely immersed in a world of smells and tastes and reactions. But now we've crossed the self-reflexive threshold and became aware that we are aware. We've become aware of our senses.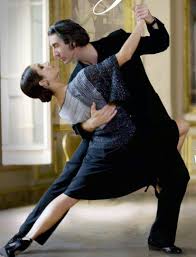 I'd like you to consider that the "I" that gives us so much trouble is nothing but an emerging and partially-developed sensual capacity that's coming online to help us navigate the inter-psychic space between sentient beings. Let's face it. We spend most of our time now in inter-subjective interactions with other human beings. These interactions are what are now essential to our survival, and are the source of our food, clothing, shelter, and well-being. We just don't spend that much time smelling each others' urine to figure out our next move anymore. We spend most all of our time in the 'I' space to get our information.
What would it be like to become aware of our new sixth sense in just the same way that we are aware of our other five? Like the other five, the emerging inter-subjective sixth sense is there to do a job, to preserve us and help us navigate our environment. It has an agenda, like our sense of taste, which is designed to lead us to eat things that are good for us. Yet we all know now that the sense of taste can be tricked, and food and booze can be manufactured to appeal to taste and taste alone, and the unconscious following of this taste-sense can create massive systemic addictive patterns that destroy the very body that the sense of taste is there to serve. A higher consciousness must then step in to govern the world of taste.
The inter-subjective sense (which we are now so swimming inside of that we call it "I") must be governed by a higher awareness when it's survival instincts and stratagems become counter-productive. What would it feel like to get into the new driver's seat?
The "I" is turned outward.
I have to confess that I'm new at this. But what happens in my experience is that the inter-subjective sense gets turned completely outward. What was once "I" becomes an outward-facing tool, and its needs and wants are just information from the senses that are quite helpful, yet not entirely trustworthy. What was once "I" becomes "it". It's tempting to use the old word 'kenosis' here to describe this experience, which is a term from western monasticism that signifies the process of 'self-emptying' and pouring forth into the world. This kenosis is seen as the climax experience of a long monastic process that shreds us until all that is left is love that pours out of us in a state of complete defenselessness as we walk our mountain paths. At this point I'd like to apologize to my obvious superiors as I pursue a more pedestrian goal.
What I'm after in the Fieldwork and the Fieldwork School is to co-create a consciousness community to help 'yous-guys' and my own poor self become relatively free of the tyranny; to learn and teach how to use the intersubjective sense to get what we legitimately need without domination and violence; and to be at play in the fields of the next level of consciousness. On my vision board, there is a field of robust dandelions, not a single hothouse orchid.
The recurring use of the field metaphor is not an accident. As I begin to observe my former self doing its thing, the next self feels like it's in an expanded field.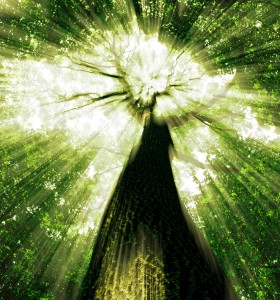 There's a sense of an immediate larger context. We're within something new, and it has a larger agenda. Things are happening, but in a non-linear way. The processes are not random however, but rather cha-ordic (order within unpredictability). We attend to things, but don't control them. A field is a place where conditions can be cultivated and seeds planted, but the miracle of life happens on its own. Surprising things pop up in a field, and we're not quite sure whether they're a weed or the best thing that's ever happened. Magnetic and gravitational fields are pre-existing spheres of influence that we can bend, but not create. A field exists in the present. Being in a field is just what it feels like when the "I" is turned outward, and the next thing comes online.  And, of course, there is the affirming sense of liberation that comes when any form of bondage is escaped if even for a moment.
The new Fieldworker may come in with a pre-planned agenda, but is present to what she's sensing now.  What is then done is created out of the sensing, just like a hand is lifted from a hot stove top.  In this case, however we have some choice as to whether to lift the hand.  And the stove top is another dynamically creating sentient being.  Things might get hot in a hurry!
What could have happened differently on my hike down South Boulder Mountain had I been able to better practice what I'm now preaching, or if Online Joy had been in this practice? The fact is, I don't know. There is no step-wise system or marketable process in the living of a moment of life. My hunch is though, that we probably had a lot to offer each other.
Allow me to make another list, one that might live in contrast to the list above, so you can see the difference.  These statements are presented here as a kind of chocolate-box sampler of the thoughts and sensations of "Being in the Field."
A chocolate box of Field experiences.
I am free to play.
I am seeing from a perspective.
The intent in this field is toward our mutual well-being.
There are consequences here that I see and accept.
The other exists outside me, at a distance that's shifting. I did not create them.
The Field between us is not fixed, it is always changing.
The other is specific and real. They are not entirely what I imagine them to be.
My state effects this moment, and I have power over it.
There is a positive to be seen in the other. I am able to see it!
The outcome is being created by what is happening now. There is nothing to drive towards.
This moment is changed by my attention.
I observe my "I". I observe my "I". I observe my "I".
Love can create here. It is the higher power.
Behold, my field of service!
Free attention is available.
I love using this sense.
What does love want to do?
What do I want to create?
What am I feeling and experiencing right now?
My attention is drawn to… what does that need from me right now?
This situation requires a psychic boundary.
This situation requires a physical boundary.
I can remove all boundaries.
Something new can arise. I don't know what it is.
These are only a few of the things that the marvelous intersubjective sense can do when put in its proper place.  Just to be clear, this requires the old dreadful ego:  1. To be fully online and operating; 2. To be turned outward and observed as a sense; and 3. To be governed by a larger consciousness that naturally comes online as the next thing. When this happens, a fourth thing occurs, which is the reification (the making real) of an expanding field that carries everyone forward within it.  This field becomes a baseline for a whole new set of experiences.  To use an old metaphor, we're creating the Kingdom.
Of course these are just beginnings. I 'm very interested to know what you would put in a matrix that grows the Field. And specifically, if you met a man on a path, how would you like to be seen by him?
Let me know what you're thinking.
To the Field as it grows between us.